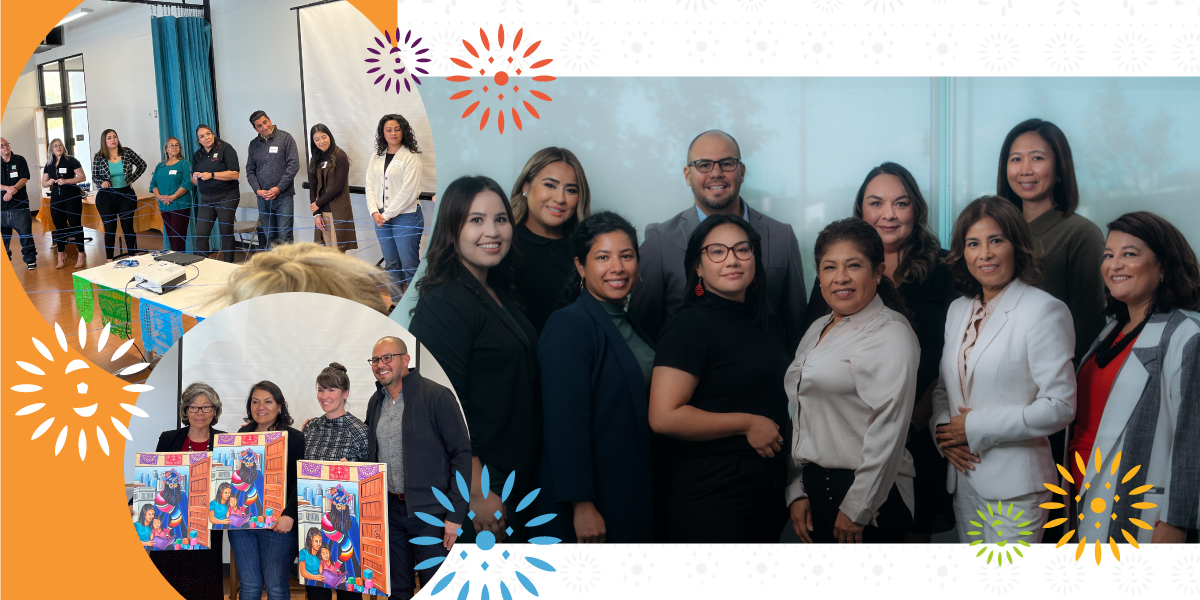 As we wrapped-up another year, we are reflecting on what we have accomplished. With our sites set on expanding our impact, we extended our reach across communities by adding new team members, forging new partnerships and developing our network of facilitators. Above all, the Abriendo Puertas/Opening Doors growing network has worked to elevate, center and support families. 
Here's a recap of what we achieved, together:
Expanded our Facilitator Network
We continued to host our virtual Program Acquisition Institutes training, which has proven to be just as effective and even more accessible for participants. 
We hosted 16 national facilitator trainings and welcomed nearly 400 newly certified 3rd Edition facilitators from 97 organizations. Our network of facilitators now spans across 41 states.
---
Developed New Organizational Partnerships
Sesame Street in Communities
We launched an exciting video with Sesame Street in Communities.
In the video, Sofía, Rosita and Rosa speak about the important role that parents play as role models for their children and how Abriendo Puertas/Opening Doors helps build a foundation of learning and resilience for families.
---
---
Abriendo Puertas/Opening Doors and Sesame Street in Communities also joined together to facilitate two webinars. The convenings explored resources for families and providers about how children can understand and address racism that is also being shared with AP/OD facilitators across the country.
UnidosUS
We started a collaboration to develop the Latino Infant Initiative (LII)- a partnership with UnidosUS, funded by the J.B. and M.K. Pritzker Family Foundation. Its purpose is to develop a national network of Latino family advocates that strengthens organization's program capacity to provide high-quality services for Latino infants and their families. The collaboration also focuses on disseminating relevant research evidence to policymakers and programs and advocates for informed policies, campaigns, and investments at the federal, state, and local levels. 
---
The Children's Partnership
We collaborated with The Children's Partnership, Families and Schools and Great Public Schools on content about how to protect children from COVID-19 as they re-entered school, and Latino childrens' health in California. 
Together with the Latino Coalition for a Healthy California (LCHC) and Latino Health Access, we helped inform the California Latinx Children's Health fact sheet. This fact sheet paints a picture of the rich racial, ethnic, linguistic and cultural assets and strengths that Latinx children and their families bring to California as well as barriers and inequities they face that impact their health and well-being.
Catalyst California
We contributed to Catalyst California's, Uplifting Family Voices: Family Engagement in California's Rate Reform & Quality Initiative. This report elevates the voices of families with young children across California, particularly those from historically underserved communities of color. These crucial insights can inform California's decisions on rate reform and quality to eradicate systemic barriers rooted in racism, sexism, and classism and ensure the system is fully resourced and designed for California's diverse children to thrive.
New Mexico-based Organizations
We joined forces with our partners in New Mexico, Future Focused Education and the New Mexico Early Childhood Education and Care Department to develop a Young Parents cohort, the X3 Home Visiting Internship Program. All parents were trained in the AP/OD curriculum, had an internship experience and received parenting Home Visiting support.
We also partnered with Future Focused Education, The Colorado Education Initiative and Levado on the Sin Fronteras Education Partnership. The partnership is focused on breaking down barriers between schools and families in New Mexico.
---
Learn about the initiative
---
Collected Important Family Perspectives
National Latino Family Survey
For the second year, we conducted a National Latino Family Survey. This year we partnered with UnidosUS and BSP Research. This research collected opinions from 1,300 Latino parents and primary caregivers of children 5 years of age or younger including expecting families. This data will inform the work of organizations and policymakers across the country.
Stanford RAPID Survey
We collaborated with the Stanford University RAPID Survey team  to collect important parent and provider perspectives about the needs and well-being of families with children birth to 5 years old.
Supported Public Service Programs
As part of our mission to advocate for and advance the needs of families, we supported a number of public service programs that benefit families. This included encouraging former and current students to apply for student loan forgiveness. We also encouraged tax-filers to receive free tax support through MyFreeTaxes, offered by our partners at UnitedWay.
---
Received Federal Funding
Abriendo Puertas/Opening Doors also received federal funding to expand our work in the state of New Mexico. The federal funding will be used to expand programs in rural areas of the state and along border communities. The funding was secured by Senator Martin Heinrich with the support of the NM Congressional representatives.
Launched a YouTube and TikTok Channel
The Abriendo Puertas/Opening Doors team launched a YouTube and TikTok channel to share more of our work in a video format.

Our YouTube channel shares family resources and early development tips, testimonials from our facilitators and videos with partner organizations. Since launching the channel, we've gained 400 subscribers and our videos have 98,466 views.
Our TikTok channel features our family partners and shares parent tips, learning activities and lessons from our curriculum. So far, our TikTok has 512 followers and over 1800 likes.
We welcomed two new team members, Karina Burciaga and Erika Bernal. Karina serves as the Executive Support Specialist and Erika serves as a Training Support Specialist.

Look out for more updates about our team this year.
---
Adrián named an Aspen Fellow
Our Executive Director, Adrián was announced as an Aspen Institute Ascend Fellow. Along  with 21 fellow leaders, they will work to transform systems so that young children and families can thrive and break the cycle of intergenerational poverty.
---
---
Thank you to our funding partners for helping to make 2022 a success. 
Ballmer Group

Bezos Family Foundation 

Conrad N. Hilton Foundation 

David & Lucile Packard Foundation 

Heising Simons Foundation 

J.B. and M.K. Pritzker Family Foundation 

Overdeck Family Foundation 

PNC Financial Services Group, Inc  

Richard Goldman Foundation 

Tikun Olam Foundation 

Viking Global Foundation