---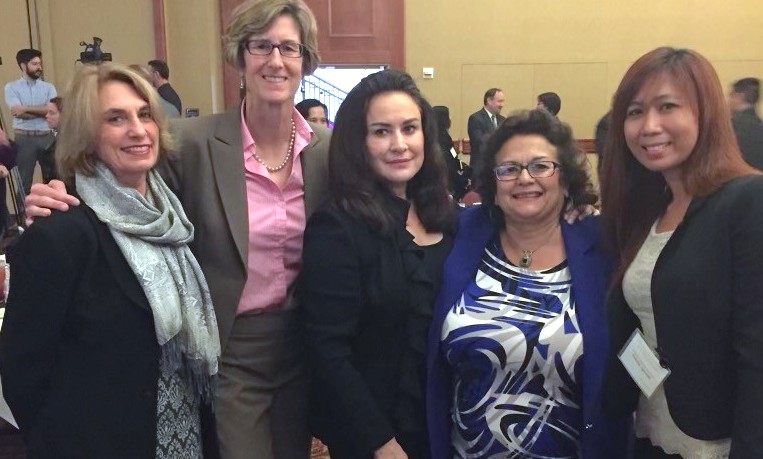 ---
Sandra Gutierrez has served as Founder and Executive Director of Abriendo Puertas/Opening Doors over the last 15 years.
This month she is transitioning away from her role as Executive Director, and we are celebrating her immense accomplishments.
A Living Legacy
Sandra has worked tirelessly for over 47 years, deeply embedded in her Los Angeles community. Born in El Salvador, she and her family migrated to L.A. when she was eight years old. She began her professional life as a community organizer and legal advocate for farmworkers and refugees. 
Before founding Abriendo Puertas/Opening Doors in 2007, she led campaigns promoting preschool education to the Latino community—always keeping parent voices at the center of her work.
Sandra developed programs for families in the child welfare system, and founded the first organization to assist Central American refugees. She went on to develop health programs for the United Farm Workers of America. 
Following her outreach campaigns to Latino families to communicate the benefits of preschool and early childhood learning, Sandra served as founding member and State Commissioner for First 5 California.
"There's a hunger for the information we're giving to Latino parents," Sandra told Fox News Latino in 2015. "We tell them that 90 percent of brain development is made in the first five years of a child's life. We know that Latino parents value education above all else."
Over the course of her career, Sandra's work has been recognized nationally. She has received... 
2012 Champions for Children Award
2014 White House Cesar E. Chavez Champion of Change
2015 White House Initiative on Educational Excellence for Hispanics "Bright Spot"
2015 White House Initiative on Educational Excellence for Hispanics Commitment to Action Recognition

2015

James Irvine Foundation Leadership Award
2016 Champion of Children's Wellbeing by Ashoka Changemakers and Robert Wood Johnson Foundation
2018 Child Care Exchange Doyen in Early Care and Education
2017 Campaign for Grade-Level Reading Champion
Most Influential People in Care

in 2020
---
---
---
---
Thanks to her leadership, the Abriendo Puertas/Opening Doors model became explosively popular. Partner organizations across the nation adopted the unique parent program as their own because it reflected the culture and realities of diverse families, drew from real life experiences, and incorporated data about local schools and services. 
Not only that, the program resulted in qualitative and quantitative improvements to quality of life and education outcomes for families. Independent studies of the program have found participants are more likely to read to their children, become active in their local governments and school boards, understand their rights as immigrants, and seek out quality child care. These outcomes have cascading, long-term benefits that are shown to increase generational wealth.
---
Evaluation findings reported by University of California, Berkeley, 2012.
---
By listening deeply to Latino families and communities, Sandra led exponential growth. In just over a decade, the organization has... 
Worked in

41

states 

Engaged over

500

family-serving organizations 

Certified over

3

,

000

facilitators who implement the AP/OD popular education approach with families
What's Next?
We know that our work is needed now more than ever, as families face inequities that need to be addressed with urgency and large-scale solutions.
Under the direction of our new National Executive Director, Adrián Pedroza, we have set an ambitious goal to reach and impact one million families a year by 2030 through new strategies and partnerships. 
We are thrilled to continue building on Sandra's legacy of community engagement and parent voice.
---