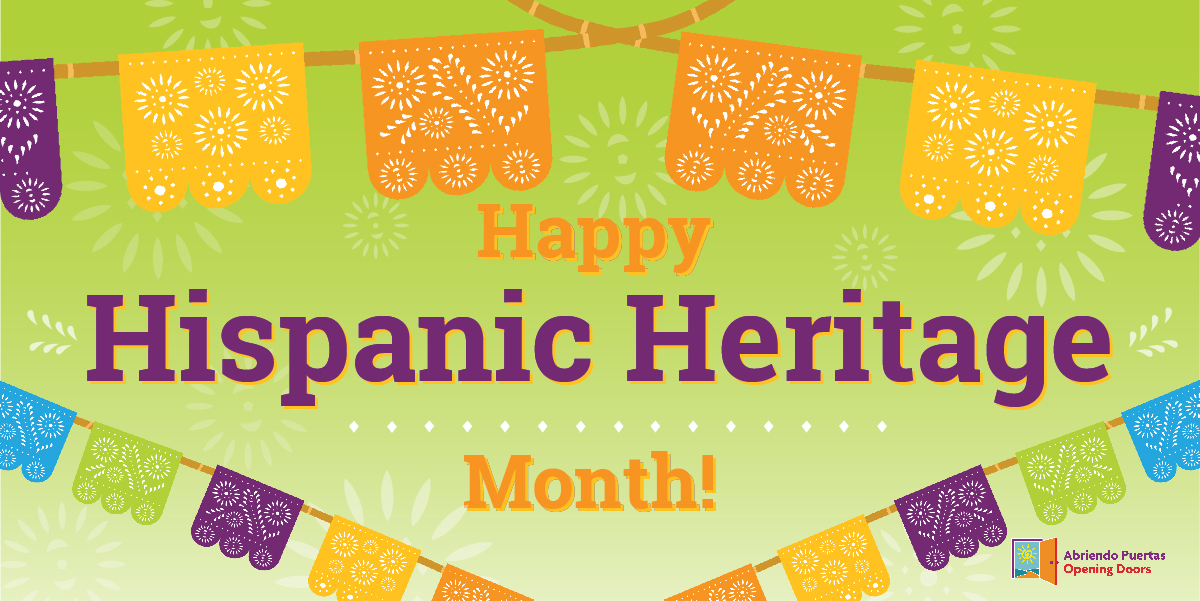 This year's Hispanic Heritage Month is about community. This celebration runs deeper than just one month out of the year, or a blanket idea of Hispanic culture. Hispanic heritage month is about weaving the intricacies of cultures and understanding that "we are all connected." This month, we celebrate the intersectionality of Hispanic heritage and the importance of community. We believe in the power of community and understanding. Hispanic heritage month is a celebration of pride in community, pride in yourself and your cultural history. 
Every year from September 15th to October 15th, Americans observe and celebrate Hispanic history, culture, and pride. Hispanic history is rooted in many different countries and cultures. September to October contains many different historical Hispanic holidays. 
Some notable holidays include September 15, which is the day of independence from Spain for Costa Rica, El Salvador, Nicaragua, Guatemala, and Honduras, as well as Mexico's independence on September 16th. The first federal celebration of Hispanic culture started in 1968 as Hispanic Heritage Week under President Lyndon Johnson. President Reagan went on to expand the week to a month in 1988. This year, the theme of Hispanic heritage month is "Todos Somos, Somos Uno: We Are All, We Are One."
Teaching children about Hispanic heritage month is essential to understanding identity and their communities better. When we talk about our heritage, family history, culture, and holidays, we give children a link to their communities and a diversity of cultures. Children can learn about Hispanic Heritage Month from books and videos, to museums and crafts. Below are some fun and engaging activities and resources to start the conversation with your child about the hispanic heritage influence in our communities. 
---
---
Rosie's Rules is a children's show that "aims to teach children concrete social studies lessons about how a community works, helping them develop an awareness of themselves as individuals and as part of a broader society. It features a comprehensive social studies framework that encompasses civics and government, geography, economics, and history by engaging, character-based narratives." You can watch with your children on your local PBS station. 
Alma's Way (PBS):
Alma's Way is "an engaging, modern-day animated series for children ages 4 to 6. The series stars 6-year-old Alma Rivera, a proud, confident Puerto Rican girl, who lives in the Bronx with her parents and younger brother, Junior, as well as a diverse group of friends, family, and community members." The show brings representation to your TV screen and tackles the topics of self and social awareness. You can watch with your children on your local PBS station. 
---
VIDEO RESOURCES: 
---
---
---
TikTok RESOURCES: 
Aprendiendo Loteria En Familia
Abriendo Puertas has a TikTok account that's full of useful resources for families! Here is a video about teaching language skills while also learning about culture and heritage through playing Loteria! To learn more or follow us,  To learn more or follow us, click here!
---
BOOKS: 
---
---
This children's book discusses the intricacies of having a cultural Hispanic name and all that comes with it. The book teaches young children to have pride in their heritage by having pride in their names. 
Sofi and the Magic, Musical Mural / Sofi y el magico mural musical
This bilingual book celebrates the Hispanic heritage through art, murals, song, dance, and more. The book is written in English and Spanish and it celebrates culture through engaging and different forms of art. 
Where Are You From?/¿De Dónde Eres? 
This bilingual book focuses on family history, cultural lineage, and home. This book focuses on where the main character is from and why it's important to know this about herself. This book is a great introduction to the concept of home and community. 
Book Recommendations from the South Beloit Public Library
Here are great book recommendations from the South Beloit Public Library that discuss Hispanic heritage, identity, and culture. 
---
HANDS ON ACTIVITIES: 
---
---
Make Your Own Colorful Papel Picado
This PBS activity is a great way to introduce iconic Hispanic imagery to your children and teach them about culture through art. The activity should only take about 30 minutes and is an easy, hands-on way to engage your child in Hispanic heritage month activities. 
Color and Discover: A Journey Through Central America
This free bilingual coloring activity goes through the alphabet using Central American words to learn more about the culture as well as other activities that increase reading, spelling, and vocabulary proficiency for children. To get more activities like this or to read more about this activity, click here.
---
MUSEUMS:
---
Many museums across the country have engaging and fun exhibitions that are great opportunities for children to learn about Hispanic culture. Here's a short list of some of those museums, but be sure to check out your local museums as well!
---