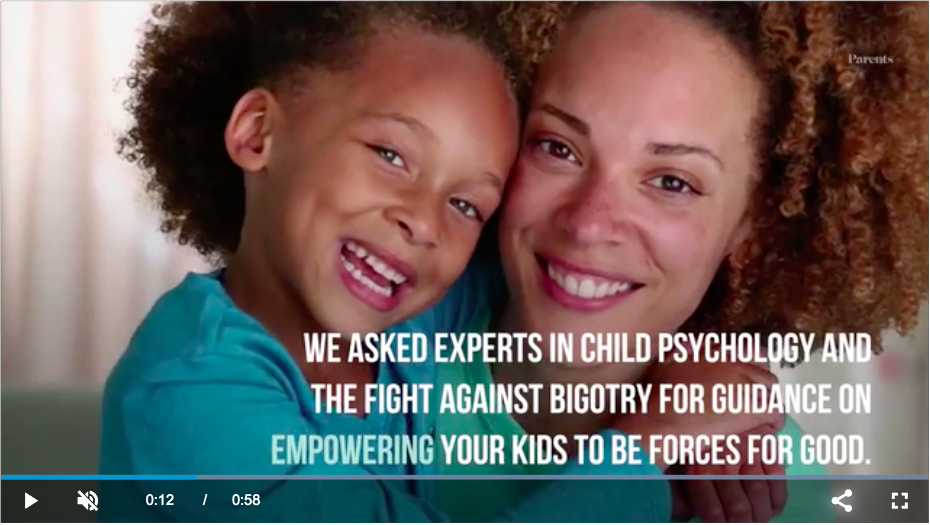 ---
Our children are watching and listening to what we stand for during these challenging times. We must talk honestly to them about racism, police, and protest. We must also comfort them and ensure they feel safe, loved, and nurtured at home. 
Speaking to children and teens about diversity and racism can be overwhelming, but it is important to speak to children about this issue as early as possible. Studies from Harvard University suggest that children as young as three years old, when exposed to racism and prejudice, tended to embrace and accept it, even though they might not entirely understand what they were feeling.
If you're struggling with how to address these challenging subjects you are not alone. We hope these resources are helpful and can provide an entry point for parents looking to talk to their kids about inequality and social justice.
---
Articles + Videos
---
---
---
Books + Poetry
---
---
More, More, More, Said the Baby
Age Range: 0-2
Blogger Sachi Feris at Raising Race Conscious Children says that in order to have conversations about racism when your kids are a bit older, you have to raise kids who are aware of race as early as possible. She recommends reading the adorable and multiracial More, More, More Said the Baby with toddlers, and using it as an opportunity to talk about the different races of the characters, and then expanding that conversation at the same time to talk about people of different ethnicities in your child's life View a read aloud of the book on YouTube here.
It's OK to be Different: A Children's Picture Book About Diversity and Kindness (bilingual)
Age Range: 3 - 7 years
Every Child is Unique! Whether they are big or small, short or tall, like to swim, dance, sing or bike. Perhaps they have a special need or are from a different ethnic background. All children are different and their individuality should be celebrated, not shunned. And this inspiring and brightly illustrated rhyming picture book does just that. It's OK to be Different encourages kids to be kind and befriend those who are different from themselves, showing young children that they don't have to look alike or enjoy doing the same activities to be kind to one another. View a read aloud of the book on YouTube.
All the Colors We Are (bilingual)
Age Range: 3 +
All the Colors We Are takes a kid-appropriate, demystifying and scientific look at why people have different skin colors (spoiler alert, it's because of who our ancestors are, the sun, and melanin), and introduces the idea that skin color is just one part of who we are. View a read aloud of the book on YouTube.
We're Different, We're the Same
Age range: 3-7
We're Different We're the Same is a picture book that uses sesame street characters and people from different ethnic groups to explains that although we may all look different on the outside—what's important to remember that deep down, we are all very much alike. This enduring, colorful, and charmingly illustrated book offers an easy, enjoyable way to learn about differences--and what truly matters. View a read aloud of the book on YouTube.
Ron's Big Mission
Age Range: 4-7
Ron's Big Mission is a picture book about how astronaut Ron McNair successfully desegregated his town's public library, when at nine years old, he stood up on the checkout counter and refused to leave until they issued him his own library card. View a read aloud of the book on YouTube.
Let's Talk About Race
Age Range: 4 - 8
This book focuses on helping kids tell their own story and including their race as an integral, but only one part of their personal history. Lester begins by describing his own story and including, "Oh, and … I'm black." This is a great, and useful book for getting kids to talk directly about how being of a certain race influences their personal story. View a read aloud of the book on YouTube.
Child of the Civil Rights Movement
Age Range: 4 - 8
Child of the Civil Rights Movement tells the story of the beginning of the civil rights movement (and explains the racism of the Jim Crow laws) from the perspective of Young Shelton as a child, who participated in the march from Selma to Montgomery when she was just four years old.  View a read aloud of the book on YouTube.
Peaceful Fights for Equal Rights
Age Range: 4 - 8
Protesting. Standing up for what's right. Uniting around the common good kids have questions about all of these things they see and hear about each day. Through sparse and lyrical writing, Rob Sanders introduces abstract concepts like "fighting for what you believe in" and turns them into something actionable. Bright illustrations bring the resistance to life making it clear that one person can make a difference. And together, we can accomplish anything. View a read aloud of the book on YouTube.
Something happened in our town
Age Range: 4 - 8
The story aims to answer children's questions about traumatic events, and to help children identify and counter racial injustice in their own lives. Includes an extensive Note to Parents and Caregivers with guidelines for discussing race and racism with children, child-friendly definitions, and sample dialogues. View a read aloud of the book on YouTube.
All Are Welcome
Age Range: 4 - 8
A warm, welcoming picture book that celebrates diversity and gives encouragement and support to all kids.  View a read aloud of the book on YouTube. 
If You're Going to a March
Age Range: 5 +
As more and more children attend the growing number of marches across the country, this cheerful guide serves as a great reference tool and conversation starter for youthful participants. Inspired by author Martha Freeman's own experiences, this picture book addresses many of the question's kids might have: What should I wear? All the while the text stays focused on the fact that the right to assemble is a Constitutional part of our life as Americans. This a great book to start an actionable conversation as our kids absorb the world around them. View a read aloud of the book on YouTube.
Fred Korematsu Speaks Up
Age Range: 8+
This book is a tale of discrimination and resistance. Fred Korematsu was jailed because he refused to go to the prison camps the U.S. government set up for Japanese Americans during the Second World War. Korematsu took his case to the Supreme Court, where he lost, though, in 1983 a federal court overturned his conviction. Korematsu was a life-long civil rights activist who fought on behalf of many other people who were unjustly treated.
Momma, Did You Hear the News? (Talking to kids about race and police)
Age Range: 6 - 9
Little Avery becomes concerned after seeing another police shooting of an unarmed man. His parents decide it is time to have "The Talk". They teach him and his brother a catchy chant to help remember what to do if approached by an officer, while also emphasizing that all policemen are not bad! View a read aloud of the book on YouTube.
Daddy, There's A Noise Outside
Age Range: 6+
There are many ways to make change, and various forms of protest are among those tactics. Daddy, There's a Noise Outside is the story of two black kids who hear protests against police violence outside their home. Their parents take this as an opportunity to teach them in a kid-friendly way about different types of protest like boycotts, marches, silent sit-ins, petitions, letter writing and civil disobedience. They also include the idea that kids can protest, too.
The Youngest Marcher: The True Story of Audrey Faye Hendricks, a Young Civil Right Activist
Age  Range: 6+
Charming, inspiring tale of 9-year-old protester. View a read aloud of the book on YouTube.
Woke: A Young Poet's Call to
Age Range: 8 - 12
Historically poets have been on the forefront of social movements. Woke is a collection of poems by women that reflects the joy and passion in the fight for social justice, tackling topics from discrimination to empathy, and acceptance to speaking out.
Todos Iguales / All Equal: Un Corrido De Lemon Grove / A Ballad of Lemon Grove
Age Range: 8+
Powerful true story of immigrants' victory for equal rights.
View a read aloud of the book in Spanish on YouTube.
View a read aloud of the book in English on YouTube.
Esperanza Rising
Ages 9-12
This book follows the story of a Mexicans Family escape to California and the poverty and struggle they faced. A powerful story about immigration and facing adversity.
Count Me In
Age Range: 8+
An uplifting story, told through the alternating voices of two middle-schoolers, in which a community rallies to reject racism.
Say Her Name (Poems to Empower)
Age Range: 12 +
Inspired by the #SayHerName campaign launched by the African American Policy Forum, these poems pay tribute to victims of police brutality as well as the activists insisting that Black Lives Matter. Elliott engages poets from the past two centuries to create a chorus of voices celebrating the creativity, resilience, and courage of African American women and girls.
---
Movies
---
---
---